I decided to start with head. I'm using a metallic paper called Stardream which gives a very nice metal look for the robot. I cut out some alien lettering on the side of the face shield.

Decidi comenzar con la cabeza, estoy utilizando un papel metalico llamado stardream el cual le da un look metalico al robot. corte unas letras alienigenas en el escudo de su cara.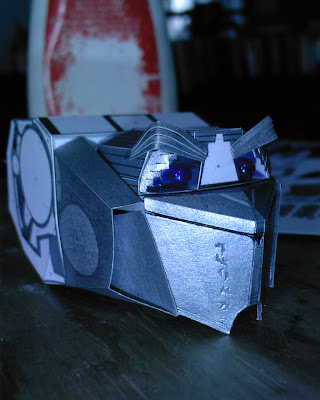 I cut out some holes on the original part for the eyes and put in a pair of blue led lights, I also added some paper strips around the eyes to make it a little more accurate.
Corte unos agujeros en la pieza original de los ojos para poner un par de luces led azules, tambien añadi algunas tiras de papel alrededor de los ojos para que se viera mas como el original.

Here it is with the led lights in place it looks nice but i didn't like that it looks to simple.
Aqui esta con las luces led en posicion se ve bien pero para mi punto de vista muy simple.

I made some more detail for the eyes I think it looks much better now.
aumente un poco el detalle de los ojos creo que se ve mucho mejor ahora.

This is what I have so far.
Esto es lo que tengo por el momento.